A Strategic Tool For Companies Who Outsource
The vetting process for selecting outsourcing partners is time consuming and complex. To support the process, Life Science Leader and Clinical Leader developed the CRO Leadership Awards in 2012. We think sponsor company opinions are important and credible — that's why the awards are based on customer feedback. Winning CROs are chosen through impartial market research based on feedback from sponsor companies that utilize outsourcing services.
Primary market research by Industry Standard Research (ISR) is the basis of the awards. Sponsors provide ratings of CROs based on recent outsourced projects. This experiential feedback is analyzed by sponsor company size to reveal leading CROs in different performance categories. For details on the research methodology, visit isrreports.com.
Would you like to participate in the research? Email your request to ISR.
The Publication
Based on the research, award recipients are announced in Life Science Leader's awards supplement – a resource for sponsors and CROs alike. The annual issue includes original editorial, outsourcing industry trends, and award-winning CRO profiles. Life Science Leader is a monthly publication available in digital and print through subscription.
The most recent awards supplement was published in May 2019.
Core Award Categories
---
1. Capabilities
2. Compatibility
3. Expertise
4. Phase IV
5. Quality
6. Reliability
Specialty Award Categories
---
1. Data Quality
2. Meeting Overall Project Timelines
3. Technology For Access To Data
4. Operational Excellence
5. Responsiveness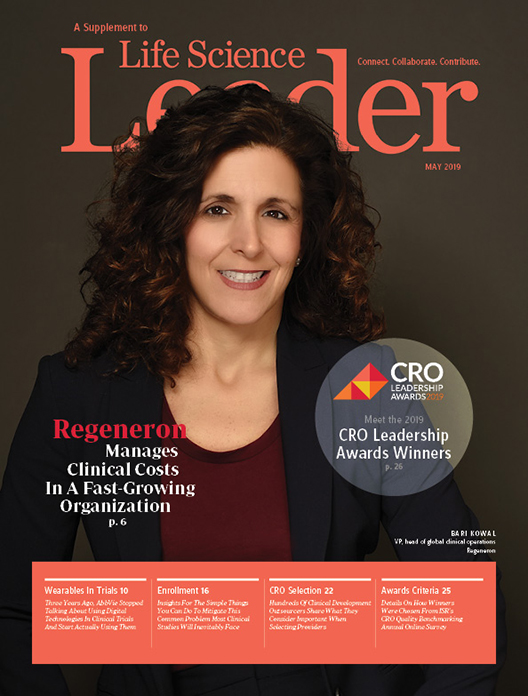 Survey Methodology: ISR's Contract Manufacturing Quality Benchmarking research is conducted annually via an online survey. For the 2020 CRO Leadership Awards, more than 60 CROs were evaluated on more than 20 performance metrics. Research participants were recruited from biopharmaceutical companies of all sizes and were screened for decision-making influence and authority when it comes to working with CROs. Respondents only evaluated companies with which they had worked on an outsourced project within the past 18 months. This level of qualification ensures that ratings come from actual involvement with a business and that companies identified as leaders are backed by experiential data. CROs must meet the minimum threshold of customer survey responses to be eligible for an award.
The Presentation
Join us as we gather in celebration of quality clinical trial outsourcing. Award recipients are recognized during a presentation. Research participants, winning CROs, and other industry stakeholders are invited to attend.
See you at the 2020 CRO Leadership Awards Presentation
Washington, DC
The CRO Leadership Awards recognize top outsourcing partners, determined by feedback from sponsor companies who outsource clinical trials. The awards are presented by Life Science Leader, Clinical Leader, and Industry Standard Research. Life Science Leader is a business journal for executives in emerging biotech through big pharma. Monthly issues feature interviews with executives from industry, the FDA, and more. Clinical Leader provides a complex industry with a forum investigating common struggles including patient recruitment, CRO selection, clinical trial management systems, or anything else related to the clinical research and trial sector. Industry Standard Research is the premier, full service market research provider to the pharma and pharma services industries. With over a decade of experience, ISR delivers an unmatched level of domain expertise with off-the-shelf intelligence and custom research offerings.